[box style="1″]The first Wireless and APP-

Contolled Multifrequency

Bioelectrical Impedance Analysis (BIA)[/box]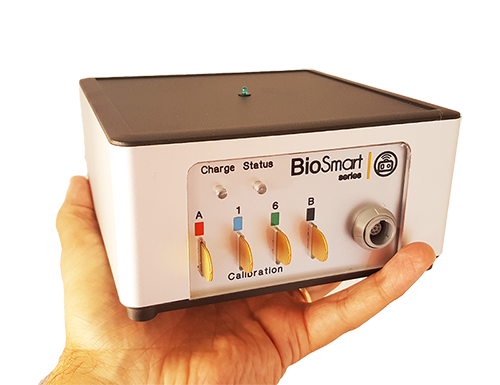 [one_half][/one_half] [one_half_last]
… SMART: connected and controlled by Cloud Software



BioSmart is an indispensable instrument for nutritionists and dieticians, as well as to endocrinologists, oncologists and many other professionals. BioSmart, the bio electrical impedance analysis (BIA), multi-frequency , is designed to be a versatile tool, is suitable to the broader needs: from the use outpatient, use at home due to the small size.
BioSmart works with Bluetooth connectivity. You can run tests and keep data on the application. Through a simple graphical representation of the results, the data will be easy to interpret and recall during the follow-up.
[/one_half_last]
[embedvideo type="youtube" id="YyJFuAyRZRg"]
[one_half]
[one_half]
[teaser img=""]
Dynamism and

Accuracy
INTERNAL SELF-DIAGNOSIS

AND

FULL CALIBRATION


The complete calibration system ensures the compensation on the errors introduced by the probe cable. It can be done at any time quickly and easily through the special front connectors.
Four sample calibration points and the probe control,

assures user

of

BioSmart

to

verify the accuracy

of the

measurements over time

.

only

5

/2

are needed to

carry out the calibration

of

BioSmart

!

FREQUENCIES


BioSmart returns

the fundamental values

measured

by the analysis

(

impedance

, resistance, reactance and phase

angle

)

to 50kHz

and

100kHz

.

Within the software

, in addition to these,

all formulations

values

are available

.

REPORTING
Customized prints

of the report

with the name of the doctor, indicating the

normal values

and anthropometric

such as weight,

circumferences

,

skinfold

and many others.

Pdf

prints

can be sent

via email.

UPDATES
BioSmart is fitted with an innovative microprocessor firmware update system (very similar derivation to microprocessors present in smartphones) at a distance that allows our

technicians to

support for

any

upgrades.
[/teaser]
[/one_half] [one_half_last]
[teaser img=""]
Many Benefits
APP
Through the new application for Tablet and Smartphone, BioSmart is a versatile tool, suitable to the broader

needs.

Together with its

compact size and

weight (only 400 grams)

allows it to be

easily transported

.

BLUETOOTH


Communication via

Bluetooth facilitate

analysis

,

and

optimize

space

within your

medical office

.
TRAINING
U

ser training is done through the connection in remote desktop

.
ELECTRODES
BioSmart is sold with an initial supply of 100 pre-gelled electrodes. It is not mandatory to buy the electrodes by the supplier (you will have available the specification of compatible electrodes), in each case the electrodes have a cost of a few cents per

piece

.

LANGUAGES
Available APP languages: English, Spanish, Italian, French. On request we can also make the app translations in other languages for free.

PRINTER
It is optionally available, a comfortable bluetooth printer of receipt.
[/teaser]
[/one_half_last]
[one_half]
[one_half]
[teaser img=""]
MEASURED PARAMETERS

These parameters are directly elected from the human body, so they are not obtained from calculations
Impedance 5Khz – 50Khz – 100Khz
Resistance 5Khz – 50Khz – 100Khz
Reactance 5Khz – 50Khz – 100Khz
Phase Angle 5Khz – 50Khz – 100Khz
Through the graphical representation of phase angle, it will be possible to assess the state of hydration of the patient
[/teaser]
[/one_half] [one_half_last]
[teaser img=""]
CALCULATED PARAMETERS

Total Body Water
Intracellular Water
Extracellular Water
Fat Mass
Fat Free Mass
Muscle Mass
BMR
Visceral Fat
Na/K Exchange
[/teaser]
[/one_half_last]
[box style="2″]
[/box]
The kit

that

will be delivered

includes

the following materials

:
#1 BIOSMART Instrument

#1 Probe Cable

#1 Charger

#1 A

luminum case

#1 USB cable 1,5m

#100 Electrodes

#1 Software License

#1 Instruction Manual

30 min. training in remote connection with our Operator (available only in English language)
INFO REQUEST

[box style="1″][/box]
[hr style="1,2,3,4″ margin="40px 0px 40px 0px"]
[box style="1″]
BLUETOOTH

TECHNOLOGY

You can communicate with the instrument via Bluetooth through Tablet or Smartphone. This innovation allows you to break free from uncomfortable flying leads and leave your device remote while the analysis is performed on the patient.
Compatibility with Bluetooth 4.0
[/box]
[newsman-form id='9']